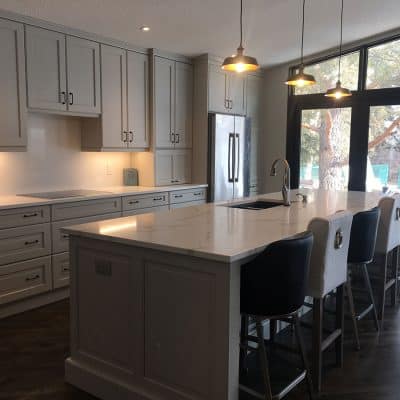 Once your material has been fabricated, we will schedule an installation appointment with you. Our installation crew of 3-5 people will make every effort to attend on time. We respect and value our customers' time and will notify you in advance of any unavoidable delays or changes to the installation time/date.
Our crew uses the latest in tools and technologies to complete your installation and makes every effort to minimize disruption to your home as a result of the installation process. We make every effort to return your home to the same condition as it was before we start.
Our work includes: installation of countertops, mounting of undermount sinks, any backsplashes included in the job, as well as ensuring that all faucets and other fittings will fit. We are not responsible for the completion of plumbing work such as attachment of sinks and faucets. We recommend lining up a licensed plumber 24 hours after the time of install; allowing enough time for the glue to set.
Depending upon the size of your project, a seam or seams may be required. During the fabrication stage, we will endeavor to minimize the number of seams and place seams in a manor to minimize their visibility. During the installation our crew will take the time it takes to ensure the seam is perfectly level as to minimize its appearance.
Allow an average of 1 to 3 hours to complete your countertop installation; depending on the size of the job.